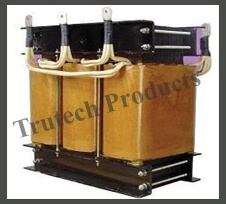 What Is A Rectifier Transformer?
It is a transformer that includes thyristors or diodes in the same tank. They are different from normal distribution and power transformers. Specially made for industrial applications, rectifier circuits can convert Alternating Current (AC) to Direct Current (DC). Now, the transformer that has one of its windings connected to this circuit is called a rectifier transformer. Trutech Products is one of the highly appreciated Rectifier Transformer Manufacturers and our transformers have allowed us to become a trusted entity in the market.
Applications Of Rectifier Transformer:
Industrial applications that require significant DC supply can benefit from these transformers. For example, electrochemical processes like chlorine, aluminium and copper production require high-current dC.
These transformers are also used in other industrial purposes like mining applications, variable-speed-drive motor controls, static precipitators etc.
High-voltage laboratory-type experiments and high-voltage DC power transmission (HVDC) also require these transformers.
Call Now!
We are one of the most respected CE Certified Rectifier Transformer Exporters and Suppliers In India. Our impeccable customer services have also helped us in improving our customer relationships throughout the years. As the one of the best Transformer Manufacturers in India, If you want to buy Rectifier Transformers, get in touch with us to discuss your requirements and we will deliver the right product in no time.