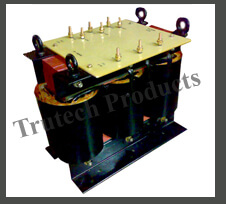 Three-Phase Transformer is the one which has its application in power generation, transmission, and distribution sectors etc. If you are in any of the fields and planning to invest in it, you should consider Trutech Products – one of the steadfast Three Phase Transformer Manufacturers in Pune Mumbai India. We are here to meet your needs with our range which we have manufactured at our in-house facility.
What Is Three Phase Transformer And What Are Its Possible Combinations?
It is one which is constructed by connecting three single-phase transformers and, they are the way too economical than them. They are best to step-up or step-down high voltages in different power transmission stages. It has several advantages which make it a better option and can run on 4 different combinations including:
Delta To Delta – This combination is ideal when you need to set it for industrial applications.
Delta To Wye/Star – It can be used for both commercial and industrial applications.
Wye/Star To Delta – It is used for high voltage transmissions and ensures hassle-free performance.
Wye /Star To Star / Wye – It is rarely used and is known for preventing harmonics and balancing problems.
Send Us Your Enquiry To Discuss Further
We are noted among the notable Three Phase Transformers Exporters and Suppliers in India. You just need to share your requirements with us and our executives will get back to you. We are here to solve your queries. Check out our collection and order as per your industrial needs.
Advantages Of Investing In Our Three Phase Transformers:
Cheaper than a single-phase transformer in terms of installation, operation and maintenance.
Light in weight and easy to port from one site to another one.
Occupies less space for installation and quick to handle as well.
Perform its power transmitting functions more efficiently and provide more power to the appliances or the process.
The model is pre-winded and can be smoothly installed in your facility.
Useful for high power industrial loads like rectifiers, motor drives and more.
Don't require maintenance too often and have endurable working life.
Reasons To Choose Us For Three Phase Transformer In India:
After understanding all the merits of installing a Three Phase Transformer, if you are looking to install and invest in it, get in touch with us. We are not just anyone but one among the top Three Phase Transformer Manufacturers in Bhopal, France, Egypt, Holland, Bangalore, and Sri Lanka. We are a trustworthy entity dealing with a wide range of electrical power transmitting devices.
Our experience is one major reason you can count on us.
We never compromise on the quality, component and features.
Devoted to delivering products to your doorway on time.
Have an extensive range for you to browse and buy from under a single roof.
Are you still in dilemma? We are the best from where you can get Three Phase Transformers in India and abroad. So, contact us now. Our experts would be glad to assist.