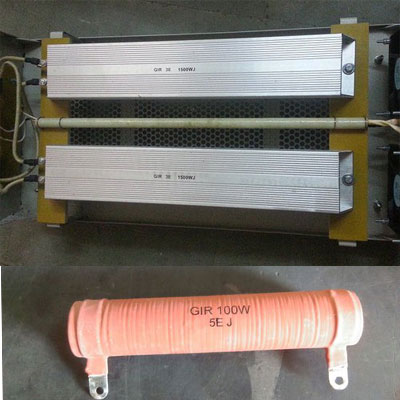 Wire Wound Resistors have an important role in limiting the current and ensuring the reliable performance of the products. To guarantee the proper load test and burn-in testing, you need to use it. Trutech Products – one of the preeminent Wire Wound Resistors Manufacturers, brings you the best quality at highly competitive prices. Our experts pay personalized attention to every design and put their 100% to enhance their working.
Our Wire Wound Resistors Are Available:
With Aluminium Casing
Without Aluminium Casing
Top Reasons To Choose Wirewound Resistors:
Durable finish standards
Endurable working life
Excellent functionality
High Power wire-wound Resistors Industrial Grade
Wire Wound Resistor ensures super heat dissipation
Applications:
Wire Wound Power Resistor has its use for:
Load Bank
Burn-In Testing
Dynamic Braking (DBR) for Drives
Load Testing
Technical Specifications:
Power Rating: 100 W to 2500 W
Maximum Operating Time: 50
Resistance: 0.1 Ohm to 1000 Ohm (Customised)
Give Us A Call Today!
Our name is renowned among the paramount Fusible Wire Wound Resistor Exporters and Suppliers in India. To place your order, send an enquiry or call now.
What Are The Properties Of Wire Wound Resistors?
Work well in long run.
Capable to absorb pulses.
Have extremely high tolerance power.
Highly efficient and ensure the stability of high temperature.
Looking For Wire Wound Resistors In India?
You can consider us to buy Wire Wound Resistors In India or anywhere else in the world. We are one of the best Wire Wound Resistors Manufacturers in USA, Vadodara, Oman, Gulf, Poland, and Chennai. We value our customers, their specific demands and provide the best solutions accordingly.
Furthermore, we are master of the trade and push our conventional boundaries just to obtain maximum client satisfaction. Each unit pass various quality tests before getting delivered to your doorways. Besides ensuring their flawless performance, we also pay attention to provide timely possible delivery. So, with no further delays, get in direct touch now. We are waiting to serve you the best.