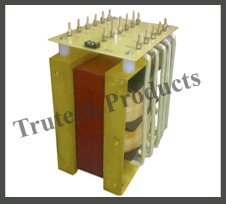 Transformers are used whenever there is a requirement to convert voltage from one level to another. But these requirements can vary depending on the application. The requirement of voltage and current can sometimes be very specific for a particular application and that's where special purpose transformers are used. Notable among the top-tier Special Purpose Transformer Manufacturers in Pune and Mumbai, Trutech Products provides best quality power transformers that are customized to your needs. Numerous machines, relays, motors need special voltage ratings to work smoothly and these specialized transformers deliver exactly that.
Who Needs Special Purpose Transformer?
Different industries like welding industry, automation industry, electrical industry, packaging industry and cranes require special purpose transformers for their specific needs.
Simply put, wherever there is a specific need of specific current and voltage values, these transformers will be required to fulfil that need.
Why Invest In Our Special Purpose Transformers?
We deliver transformers that are designed and tailored to withstand roughest working conditions.
Our experienced professionals make sure that other than fulfilling your requirements, these transformers also last for a longer period of time.
Our company is recognized as one of the most reliable Transformer Manufacturers In Pune and Special Purpose Voltage Transformer Exporters and Suppliers In India. So, if you want top-quality transformers, call us to place your order.